Description
2016 in Philadelphia
Join us as we walk to create a world where children will be safe and healthy until a cure for food allergy is found. The Strides for Safe Kids Mall Walk and Expo includes a food allergy fundraising walk, allergy-friendly exhibitors with free samples and asthma & allergy friendly™ products and raffles. This special day will also include entertainment and activities for the whole family to enjoy. Additionally, the event will build food allergy and asthma awareness and advocacy. We encourage all families interested in supporting food allergy and asthma education and awareness to attend.
With your help, we educate, advocate and fund research for asthma and food allergy. The funds raised by this event will benefit the Asthma and Allergy Foundation of America (AAFA) and Kids With Food Allergies (KFA). When you register, please consider creating a fundraising page to keep children with food allergies safe and healthy.

Location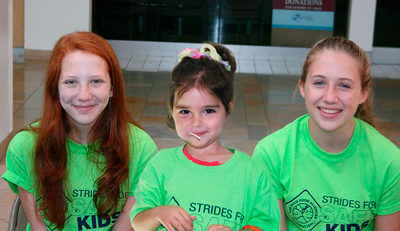 Plymouth Meeting Mall
500 West Germantown Pike
Plymouth Meeting, PA 19462
Directions
Date and Time
Saturday, September 17, 2016
Registration opens at 9am (Save time and pre-register!)
Walk and Fundraiser 9:00am - 11:30am
Cost
Registration is FREE.
Features
Allergy-friendly businesses and free samples

asthma & allergy friendly™ products and raffles

5K walk around the mall

Fun-filled, interactive performances by LOLLY and YOYO

Activities for children