Donation
Your gift makes a difference – help kids #TackleAsthma and chase their dreams today!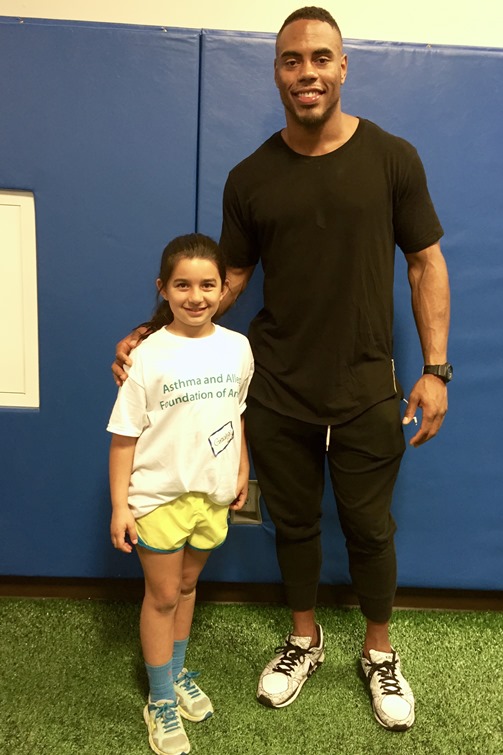 "To each child struggling with asthma today, I am here to say 'you are more than just asthma.'" - Rashad Jennings, former NY Giants running back, Dancing with the Stars contestant, founder Rashad Jennings Foundation, and person with asthma - pictured here with Grace
When Rashad was 9, he was diagnosed with asthma, and he was told his dream of playing in the NFL would never come true. He credits the right education about his disease with keeping him safe off AND on the field, and his dreams came true!
Today, Rashad is asking for YOUR HELP – to tell today's kids with asthma, that their dreams can come true too!
Your gift provides educational kits, training, support groups and so much more – perhaps the difference that makes a dream come true. Asthma is a chronic disease with no cure, that affects 6 million children and 18 million adults in the United States.
Your gift helps AAFA reach those affected by asthma, so that they can #TackleAsthma like Rashad!
Please join us and Rashad in supporting the dreams of kids with asthma, especially during National Asthma and Allergy Awareness Month!
Every donation makes a difference, and gifts are secure and safe.
Privacy: Your online transaction will be safe and secure, and our donor privacy policy assures you we will not sell, trade or share any donor's personal information with anyone else, nor send donor mailings on behalf of other organizations. We will only share personal information if a donor has given permission to do so.
Make a Donation Offline: You can also call AAFA's toll-free hotline at 1-800-7ASTHMA or mail your donation to the following address:

Asthma and Allergy Foundation of America
PO Box 424053
Washington, DC 20042
Information: AAFA's Tax ID is #13-1691693. Kids With Food Allergies is a divsion of the Asthma and Allergy Foundation of America. If you have any questions, contact fundraise@aafa.org or call 202-466-7643, x256.
Fiscal Responsibility: For more than 60 years, AAFA has been a leader in nonprofit fiscal responsibility and management. AAFA is a proud member of these groups: